Invest more in the machinery and infrastructure we need to do really lean manufacturing.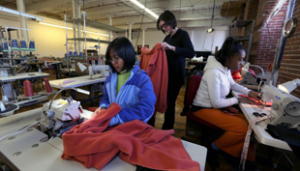 Brenna Schneider sees customization as the future: when you order a hoodie or a pair of kicks, you should be able to make the design your own. But one of the big limitations, Schneider says, is the long wait. Since most of the products are made overseas, it can take several weeks to get what you ordered. "And of course, the e-commerce world has no tolerance for weeks," she says. "There's pressure for quicker turnaround on custom orders."
Schneider is building a company, 99Degrees Custom, to solve that problem by making products in the U.S., using efficient manufacturing techniques. And last week, the company closed on its first round of equity funding, raising $400,000 from a group of investors including telecom entrepreneur Desh Deshpande, former Oracle exec Robert Phillips, Jim Rice of MIT's Center for Transportation and Logistics, and John and Linda Henry. (Yes, owners of the Boston Globe and this website.)
The company, with 13 employees, is located in a mill building in Lawrence. Schneider says many of the employees are "experienced stitchers" who have worked in garment factories in other parts of the world, and "have brought that experience back to Lowell and Lawrence." With the new capital, she's planning to hire a director of operations, and "invest more in the machinery and infrastructure we need to do really lean manufacturing."
Schneider founded 99Degrees in early 2013, after her previous employer shut down. "I grew up in manufacturing, working in the textile industry in the U.S. and India," she says. "So I saw all the interest the leading brands were expressing in customization. We're trying to create good jobs around custom, fast-turn manufacturing."
The company has done work for customers like New Balance, Polartec, West Elm, Wild Things, and Via Privé. 99Degrees took home a $100,000 prize from the 2013 MassChallenge competition, and was also a winner of the EforAll accelerator program in Lowell.
Source: betaboston.com