In certain situations, because of the flexibility and lean process in Florence, Balluff can offer same-day delivery on linear transducers.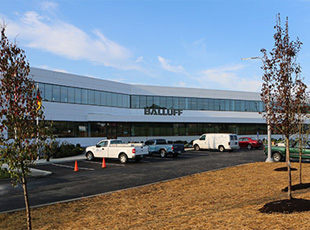 With the 2014 expansion of its campus in Florence, Kentucky, Balluff, the German sensor manufacturer and automation supplier, takes another significant step in improving its global production and logistics footprint.
Balluff ships more than 200,000 products through its existing 56,000-sq-ft Florence facility annually. The new space adds 48,000 sq ft, as well as more jobs and increased production.
"By 2016 production hours in the Kentucky facility will increase 140%," says Florian Hermle, global managing director and owner. This plant has grown steadily since Balluff began operations there in the early 1980s, with previous expansions of the campus taking place in 1994 and 2001.
Currently, 165 people are employed there. "We're looking at adding approximately 60-100 jobs over the next five years," explains Mark Pollard, vice president of operations. Globally, Balluff employs 2,600 people at nine production sites and 56 subsidiaries. "We have a Balluff on almost every continent," says Pollard.
Balluff manufactures a wide range of inductive, photoelectric, vision, capacitive, and magnetic sensors, as well as linear position transducers, RFID systems, and networking products. Its products for OEM and factory floor solutions are used to control, regulate, automate, assemble, position, and monitor manufacturing, assembly, and packaging sequences for industries including metalworking, automotive, plastics, material handling, wood processing, aerospace, alternative energy, medical, electrical, and electronics. The Florence location also has been home to Balluff's U.S. headquarters since 1983. And the facility is the final assembly, distribution, and training site for Balluff in the United States.
"The goal of expanding production in Kentucky is to ensure short lead times and reliable on-time delivery with made-to-order products," says Hermle. Linear transducers and mechanical switches comprise the bulk of products manufactured and assembled in the Florence facility, which also includes an engineering team capable of product customization.
"These devices are customized to each customer's needs and require precision testing and assembly," explains Henry Menke, marketing manager, sensors. "This is a great strength of the Kentucky production team. In addition, Balluff is able to provide guaranteed five-day delivery for linear transducer products. In certain situations, because of the flexibility and lean process in Florence, Balluff can offer same-day delivery on linear transducers," says Menke.
Operating a highly efficient and compact carousel-style logistics system, Balluff can process up to 110 line items per hour with one operator. Shipments via carrier, courier, or post can be shipped to virtually any location or country directly out of Florence. "By 2016, logistics and warehouse labor hours are expected to increase 40% in Kentucky," says Hermle. This increase in productivity will be expanded further by investments in additional carousel systems and warehouse capacity in the existing facility.
"The existing facility allows access to natural light through skylights or windows," explains Pollard. "That's the European influence. The new building was designed and built with green initiatives. All the new lighting is LED. When we move people to the new building, we'll conduct a facelift on the old building to bring it up to the same energy-efficient standards."
The facility also focuses on the well-being of its employees, offering on-site yoga classes and health fairs, where hospital employees take blood pressure and give health tests, as well as other wellness initiatives.
"There's also a creek between the two buildings and a bridge that spans it," says Pollard. "We're putting in walking paths. We have on-site health club facilities, including treadmills and weights and a fitness center."
The final assembly locations are air-conditioned and carpeted. "With electronic assembly, there's not a lot of heavy equipment," explains Pollard. "The only big difference between the offices and assembly areas is a soldering gun and some electrical equipment."
Source: plantservices.com